Grian™ have developed a number of support services to ensure you get the maximum effect from every unit. From deployment and training to back up maintenance support and damaged unit replacement, Grian ™ will be there to make sure you have the power you require to complete your mission, anywhere on the planet.
Download The Grian Brochure
Please enter your details below and click submit. A new browser tab will open with the pdf brochure which you can download.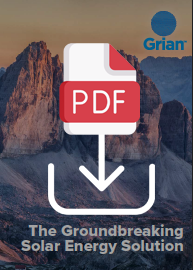 In our experience both in the military and as civilians, our target areas run into extreme issues with remote energy sources. These challenges historically pertain to the logistics and cost of existing energy solutions. Especially with dirty, fuel centric energy sources such as Diesel that can be difficult to store and dangerous to transport. Grian™ aims to solve these problems by being:
Easy to Implement and Maintain
Expert ongoing support & roll out options
Quiet for non-permissive environments
Cost Effective vs. Alternative Power Sources
Rapidly deployable by land, air or sea.
Sustainable & Environmentally Friendly